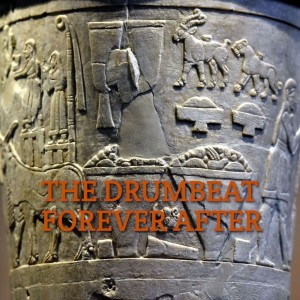 Monday Oct 11, 2021
9: Late Neolithic daily life: farming, herding, cooking, weaving, & brewing, 7000-5300 BCE (Inanna & Dumuzi, part 3)
(Re-recorded as of December 18, 2022)
Guests: Kirra, Victoria
First: Dumuzi, doomed by his wife Inanna to spend the rest of his life in the underworld, has a prophetic dream, and his sister Geshtinanna helps him interpret it. Can she save him from the galla-demons?
Then, we take a look at the entire Near East throughout the Pottery Neolithic, with a focus on the Halaf period (6250-5300 BCE), the period directly following the peak of the 8.2 kiloyear event.
Then, a day in the life of a Halaf-period villager, in a fictional median village somewhere in northern Mesopotamia during the early 6th millennium BCE. We talk about herding, agriculture, textiles, cooking, & brewing beer.
Finally, we finish this three-episode arc about Inanna & the underworld. Can she reach an understanding with the galla-demons that allows her to spend 100% of her time outside hell? How does this new arrangement affect her in-laws?
Questions? Feedback? Email us at drumbeatforeverafter@gmail.com.
Follow us on Twitter and Instagram @drumbeatforever
Comments
(0)
To leave or reply to comments, please download free Podbean or