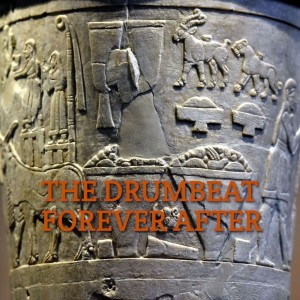 Sunday Sep 19, 2021
7: Life, death, dinner parties, & the first pottery in Syria, 7000-5300 BCE (Inanna, Enki, & Ereshkigal, part 1)
(Re-recorded as of December 18, 2022)
Guests: Kirra, Victoria
First: Inanna, patron goddess of Unug, visits Enki in his hometown of Eridu and they start drinking. Will he make any ill-advised decisions vis-a-vis all the abstract concepts he's god of? Will he, having sobered up, send a cavalcade of mythical monsters after Inanna before she can get back home with all his stuff?
Then, an introduction to the Pottery Neolithic (or the Ceramic Neolithic, or the Late Neolithic), spanning roughly 7000-5300 BCE. We'll look at the complementary trends of village fragmentation and increased interactions between individual households.
Then, we visit Tell el-Kerkh, in northwestern Syria, to track its development from a PPNB megasite to a tiny hamlet during the Pottery Neolithic. About 280 burials from the Neolithic here cast a light on malnutrition and starvation during the transition to the Pottery Neolithic. We also see evidence of a feasting tradition shared with the broader region.
Then, now that pottery has become common in the Near East, we take a look at its historical context, its forerunners, and the culinary transformation that it enabled, as well as the chemical process of firing pottery.
Finally: we begin the story of Inanna's journey to the underworld to visit her sister Ereshkigal. Let's see how that goes for her!
Questions? Feedback? Email us at drumbeatforeverafter@gmail.com.
Follow us on Twitter and Instagram @drumbeatforever
Comments
(0)
To leave or reply to comments, please download free Podbean or