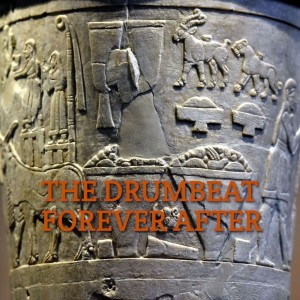 Saturday Dec 03, 2022
6: Çatalhöyük, the Domuztepe death pit, & Late Neolithic Anatolia, 7400-5500 BCE (Nergal & Ereshkigal)
(Re-recorded as of December 3, 2022)
Guest: Victoria
First: Having insulted Ereshkigal (queen of the Sumerian underworld) by offending her messenger's honor at a dinner party in heaven, Nergal (god of war, plague, and death) has to travel down to the underworld to apologize to her in person. Will he be able to restrain his overweening libido?
Then, we tour Çatalhöyük (in modern south-central Turkey), one of the biggest and densest communities in the world during the late 6,000s BCE. What can their patterns of burial tell us about their social organization? What did this dense concentration of people portend for public health? What do the few murals with photographic documentation imply about the history of volcanic eruptions in the region?
Then, the adoption and spread of the Neolithic lifestyle had a variety of effects on the human body, including a few useful adaptations, like lactase persistence. However, the combination of a grain-based diet, daily interaction with new species of livestock, and the growth of large, dense settlements also exposed people to countless new (or newly common) diseases: anemia, brucellosis, malaria, tooth decay, and more!
Then, we look at the evidence for warfare during the 8.2-kiloyear climatic event, which affected societies across the Near East during the late 7th millennium BCE.
Then, we visit a singular burial installation in southeastern Anatolia: a death pit containing the remains of about three dozen people and several dogs, not to mention the bones of the animals eaten for their funerary feast. What were they doing with all these bones?
Finally: even though their relationship seems unsalvageable by the end of the second act, Nergal & Ereshkigal find a way to patch up their issues by the middle of the third act!
Questions? Feedback? Email us at drumbeatforeverafter@gmail.com.
Follow us on Twitter and Instagram @drumbeatforever
Comments
(0)
To leave or reply to comments, please download free Podbean or