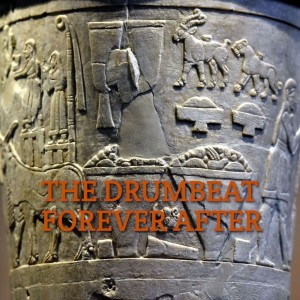 Friday Dec 09, 2022
34: The Lower Diyala & the foundation of Mari, 2900-2600 BCE (Ningishzida's journey to the nether world)
Guest: Annika
First, a classic sitcom setup: Ningishzida plans to sail a boat to hell with his friend (an ill-intentioned demon), but his sister Ama-shilama wants to tag along!
Then, we visit the construction site of Mari, a city built from scratch in the middle of nowhere around 2900 BCE, along with 150 km (90 mi) of canals to connect it to both the Euphrates and the Khabur river. You can do the math: the perfectly circular outer walls, with a diameter of 1.9 km, enclose an area of about 280 hectares! (The inner walls enclose about 130 ha.) Who built it? Who built Thebes of the seven gates? So many questions!
Then, we head west to the lower Diyala river, to see the temples in Tutub and the statuary in Eshnunna. What can famous art tell us about the chronology of the late early Early Dynastic period?
Also, skipping forward in time: you're never going to guess where this textile worker who died young under unclear circumstances got her pendant from.
Finally: the text is broken, but Ningishzida receives a blessing, possibly from Ereshkigal, the underworld goddess who fell in love with Nergal back in episode 6.
Questions? Feedback? Email us at drumbeatforeverafter@gmail.com.
Follow us on Twitter and Instagram @drumbeatforever
Comments
(0)
To leave or reply to comments, please download free Podbean or